Mediterranean Spaghetti Squash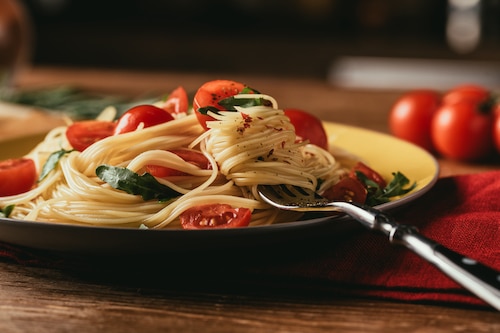 Ingredients:
1 small spaghetti squash

4 tablespoons olive oil, divided

1 small onion

1 medium red bell pepper

1 portobello mushroom cap

5 large cloves garlic

5 cherry tomatoes

1 cup cannellini beans

1 tablespoon dried oregano

1 tablespoon dried basil

3/4 cup vegetable broth

1/4 cup crumbled feta cheese

1/4 cup basil leaves for garnish
Preparation:
Heat oven to 400 degrees F.

Cut spaghetti squash in half, length-wise. Remove seeds with a spoon.

Drizzle 1 tablespoon olive oil on both halves of the squash, and place flesh side down in a 9×13" baking pan. Bake in the oven for 30-40 minutes, until tender.

When spaghetti squash has cooled down, shred flesh with a fork, and set aside.

Add remaining olive oil to a pan over medium-high heat.

Dice onion and add to the pan. Sauté 3 minutes.

While the onion is cooking, slice red bell pepper and mushroom. Mince the garlic, half the tomato and rinse and drain cannellini beans.

Add all vegetables (except tomatoes) and herbs to the pan with the onion. Stir together and cook for an additional 5 minutes.

Add the broth, spaghetti squash flesh, beans, and tomatoes to the same pan. Cook for 10 more minutes.

When cooking is complete, add the feta and basil, and serve.
Helpful Hints
An ice cream scooper works great for scooping out the spaghetti squash seeds.

A small spaghetti squash will yield about 4 cups of shredded squash.

A portobello mushroom cap is about 3 ounces, which yields about 1 cup.

A small onion will yield 1/2 cup coarsely chopped, 1/4 cup finely chopped.

This is a higher potassium dish, but can be considered a full meal. This meal can be incorporated into a kidney-friendly meal plan, considering other meals throughout the day to balance potassium intake.