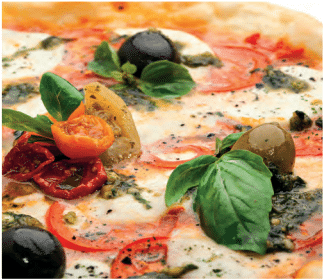 Ingredients
1 medium flat bread e.g.Lavash or Lebanese bread
1/2 cup canned tomatoes, salt reduced
1/2 teaspoon minced garlic
1 red onion, diced
6 capsicum rings, diced
1/4 cup fresh mushrooms, sliced
10 black olives, pitted
60g reduced fat cheddar cheese, grated
2 tablespoons torn basil
2 teaspoons pine nuts
Cooking Instructions
Pre-heat oven to 180 degrees Celsius and spray a round pizza tray or similar with cooking spray.
Lightly puree tomatoes and garlic. Spread sauce lightly on to the bread and top with the remaining ingredients in above order.
Cook in moderate oven for 10 minutes or until cheese melts and has started to brown.
Cut into quarters and serve hot.