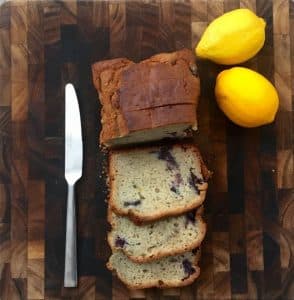 Ingredients:
1-1/2 cups all-purpose white flour
1 teaspoon baking powder
1/3 cup canola oil
2/3 cup granulated white sugar
2 tablespoons lemon extract
4 egg whites
1/2 cup 1% low-fat milk
1 cup fresh blueberries
3/4 cup powdered sugar
1/4 cup lemon juice
1 tablespoon grated lemon peel
Cooking Instructions:
Preheat the oven to 350° F. Use cooking spray to coat a 9 x 5-inch loaf pan and dust with flour.
In a large bowl, combine flour and baking powder.
In another bowl, mix oil, granulated sugar, milk, lemon extract and egg whites.
Add flour mixture to oil and sugar mixture. Stir just until blended; do not overmix.
Fold in blueberries and lemon peel.
Pour batter into loaf pan and bake for 40 to 50 minutes or until an inserted toothpick comes out clean.
Prepare glaze while bread is baking. In a small saucepan, combine powdered sugar and lemon juice. Heat until sugar is dissolved.
After removing bread from the oven, immediately poke holes at 1-inch intervals into the top, and pour lemon glaze over bread.
Helpful Hints
For those with diabetes, consider substituting low calorie sweetener for sugar, and omitting the lemon-sugar glaze.