Cranberry Almond Protein Bars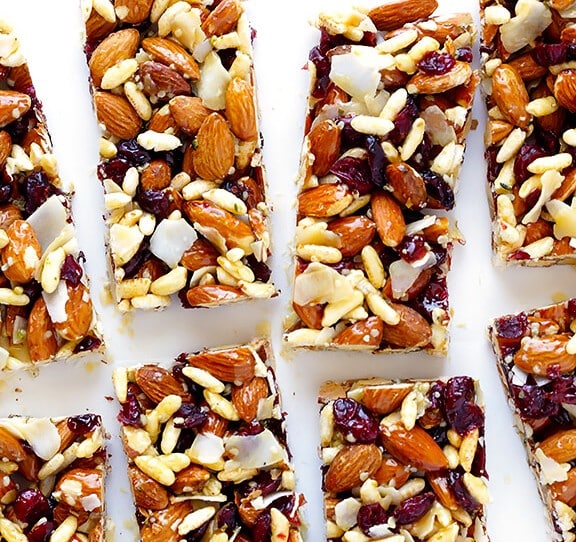 Ingredients
2 cups almonds
2/3 cups puffed rice cereal
2/3 cup dried cranberries
1/2 unsweetened coconut flakes
1 heaping tablespoon hemp seeds (optional)
1/3 cup brown rice syrup
2 tablespoons honey
1 teaspoon vanilla extract
Cooking Instructions
Line an 8×8 baking dish with parchment paper.
Add almonds, puffed rice cereal, cranberries, coconut, and hemp seeds and toss inside a large mixing bowl.
Stir brown rice syrup, honey and vanilla together in small saucepan.
Heat over medium-high heat until it boils and stir occasionally for 4-5 minutes.
Pour sauce over almond mixture QUICKLY since it hardens fast.
Transfer to the baking dish and press to an even layer.
Let it sit until room temperature and cut into desired pieces.
Bars can last up to 10 days or 3 months if you chose to freeze them.